I've posted my list of resources for finding Hotfixes previously here.  And this is a list of hotfixes we've imported in our WSUS server for our and our customers Private Clouds.
I usually want to install a hotfix to avoid getting a known problem, than try to find a solution to a problem after it has already happened and affected the users and customers.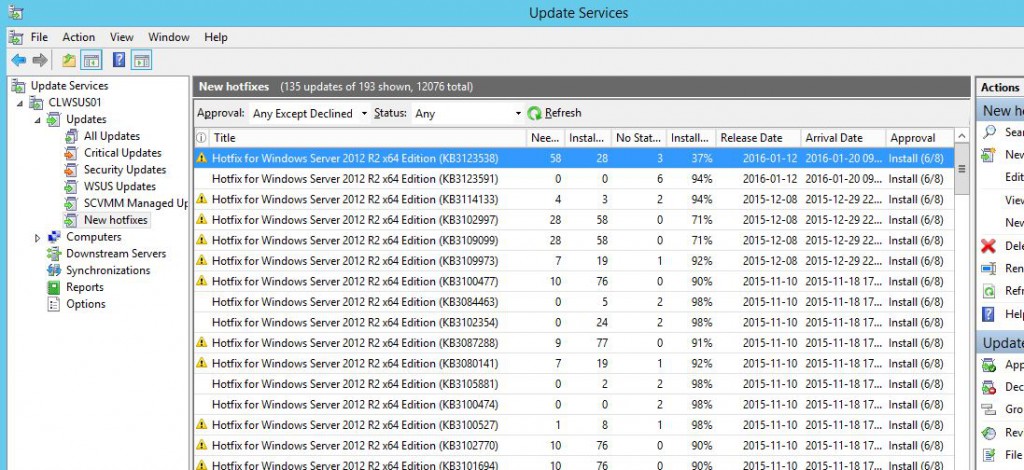 I've used the script I posted here to make the list. I'm sorry for the format below, but there is no good way to extract the info from WSUS and as I don't really know if anyone is interested in this besides myself, I won't spend hours on fixing a nice output right now or I would never get this blogpost published.  Sorry!
I'm using the MUUri to paste into the WSUS IE to search and locate the hotfixes fast, instead of manually search for each. There is unfortunately no way to script the import according to Microsoft PM's, so it has to be done manually. Sigh…

KB          : 3123538
KBTitle     : All disks in a storage pool can't be brought online in a Windows Server 2012 R2-based cluster
KBUri       : https://support.microsoft.com/en-us/kb/3123538
MUUri       : http://catalog.update.microsoft.com/v7/site/Search.aspx?q=3123538
ReleaseDate : 2016-01-12
KB          : 3123591
KBTitle     : iSCSI target sends GOOD response instead of BUSY response for read or write commands in Windows Server 2012 R2
KBUri       : https://support.microsoft.com/en-us/kb/3123591
MUUri       : http://catalog.update.microsoft.com/v7/site/Search.aspx?q=3123591
ReleaseDate : 2016-01-12
KB          : 3109973
KBTitle     : Backup fails with a "File Not Found" error on a Windows Server 2012 R2 cluster
KBUri       : https://support.microsoft.com/en-us/kb/3109973
MUUri       : http://catalog.update.microsoft.com/v7/site/Search.aspx?q=3109973
ReleaseDate : 2015-12-08
KB          : 3102997
KBTitle     : Data is corrupted after iSCSI sessions or paths recover in Windows Server 2012 R2 or Windows Server 2012
KBUri       : https://support.microsoft.com/en-us/kb/3102997
MUUri       : http://catalog.update.microsoft.com/v7/site/Search.aspx?q=3102997
ReleaseDate : 2015-12-08
KB          : 3109099
KBTitle     : Update adds support for the slow timer in LACP in Windows Server 2012 R2
KBUri       : https://support.microsoft.com/en-us/kb/3109099
MUUri       : http://catalog.update.microsoft.com/v7/site/Search.aspx?q=3109099
ReleaseDate : 2015-12-08
KB          : 3114133
KBTitle     : Windows Server Backup fails when you back up multiple volumes in Windows Server 2012 R2
KBUri       : https://support.microsoft.com/en-us/kb/3114133
MUUri       : http://catalog.update.microsoft.com/v7/site/Search.aspx?q=3114133
ReleaseDate : 2015-12-08
KB          : 3092604
KBTitle     : Network is corrupted between Guest OS and external network for VMs hosted on Windows 8.1 or Windows Server 2012 R2
KBUri       : https://support.microsoft.com/en-us/kb/3092604
MUUri       : http://catalog.update.microsoft.com/v7/site/Search.aspx?q=3092604
ReleaseDate : 2015-11-10
KB          : 3101694
KBTitle     : "0x000000D1" Stop error in Pacer.sys when there's heavy QoS traffic in Windows Server 2012 R2
KBUri       : https://support.microsoft.com/en-us/kb/3101694
MUUri       : http://catalog.update.microsoft.com/v7/site/Search.aspx?q=3101694
ReleaseDate : 2015-11-10
KB          : 3100474
KBTitle     : Can't connect to wireless network when you resume the computer from hibernate mode in Windows
KBUri       : https://support.microsoft.com/en-us/kb/3100474
MUUri       : http://catalog.update.microsoft.com/v7/site/Search.aspx?q=3100474
ReleaseDate : 2015-11-10
KB          : 3105881
KBTitle     : Can't access applications when device authentication is enabled in Windows Server 2012 R2-based AD FS server
KBUri       : https://support.microsoft.com/en-us/kb/3105881
MUUri       : http://catalog.update.microsoft.com/v7/site/Search.aspx?q=3105881
ReleaseDate : 2015-11-10
KB          : 3102770
KBTitle     : The chkdsk command together with the spotfix option doesn't fix extended volumes corruption in Windows Server 2012 R2
KBUri       : https://support.microsoft.com/en-us/kb/3102770
MUUri       : http://catalog.update.microsoft.com/v7/site/Search.aspx?q=3102770
ReleaseDate : 2015-11-10
KB          : 3084463
KBTitle     : WSUSutil.exe csaimport fails upon import in Windows Server 2012 R2 or Windows Server 2012
KBUri       : https://support.microsoft.com/en-us/kb/3084463
MUUri       : http://catalog.update.microsoft.com/v7/site/Search.aspx?q=3084463
ReleaseDate : 2015-11-10
KB          : 3102354
KBTitle     : Hyper-V generation 2 virtual machines can't start with some pass-through disks in Windows Server 2012 R2
KBUri       : https://support.microsoft.com/en-us/kb/3102354
MUUri       : http://catalog.update.microsoft.com/v7/site/Search.aspx?q=3102354
ReleaseDate : 2015-11-10
KB          : 3063109
KBTitle     : Virtual machine crashes and WAL consistency is not maintained for Guest clustered VMs in Windows Server 2012 R2
KBUri       : https://support.microsoft.com/en-us/kb/3063109
MUUri       : http://catalog.update.microsoft.com/v7/site/Search.aspx?q=3063109
ReleaseDate : 2015-11-10
KB          : 3100527
KBTitle     : System becomes unresponsive and crashes on Windows Server 2012 R2-based file servers
KBUri       : https://support.microsoft.com/en-us/kb/3100527
MUUri       : http://catalog.update.microsoft.com/v7/site/Search.aspx?q=3100527
ReleaseDate : 2015-11-10
KB          : 3080141
KBTitle     : Cluster service freezes on a Windows Server 2012 R2 or Windows Server 2012-based failover cluster
KBUri       : https://support.microsoft.com/en-us/kb/3080141
MUUri       : http://catalog.update.microsoft.com/v7/site/Search.aspx?q=3080141
ReleaseDate : 2015-11-10
KB          : 3100477
KBTitle     : A large file upload or a large repository clone fails on VSO in Windows Server 2012 R2
KBUri       : https://support.microsoft.com/en-us/kb/3100477
MUUri       : http://catalog.update.microsoft.com/v7/site/Search.aspx?q=3100477
ReleaseDate : 2015-11-10
KB          : 3087288
KBTitle     : GPP is not applied after computer meets the Item-level targeting settings in Windows 8.1 and Windows Server 2012 R2
KBUri       : https://support.microsoft.com/en-us/kb/3087288
MUUri       : http://catalog.update.microsoft.com/v7/site/Search.aspx?q=3087288
ReleaseDate : 2015-11-10
KB          : 3095319
KBTitle     : Error occurs when you manage audit policies, performance counters don't work, or mailbox backup fails in Windows
KBUri       : https://support.microsoft.com/en-us/kb/3095319
MUUri       : http://catalog.update.microsoft.com/v7/site/Search.aspx?q=3095319
ReleaseDate : 2015-10-13
KB          : 3091057
KBTitle     : Cluster validation fails in the "Validate Simultaneous Failover" test in a Windows Server 2012 R2-based failover cluster
KBUri       : https://support.microsoft.com/en-us/kb/3091057
MUUri       : http://catalog.update.microsoft.com/v7/site/Search.aspx?q=3091057
ReleaseDate : 2015-10-13
KB          : 3092695
KBTitle     : Licensing report file is corrupted in Windows Server 2012 R2 RDS environments for large report files
KBUri       : https://support.microsoft.com/en-us/kb/3092695
MUUri       : http://catalog.update.microsoft.com/v7/site/Search.aspx?q=3092695
ReleaseDate : 2015-10-13
KB          : 3091403
KBTitle     : High CPU usage for 12 seconds on a multiple-network-adapters computer in Windows Server 2012 R2 or Windows Server 2012
KBUri       : https://support.microsoft.com/en-us/kb/3091403
MUUri       : http://catalog.update.microsoft.com/v7/site/Search.aspx?q=3091403
ReleaseDate : 2015-10-13
KB          : 3092006
KBTitle     : Subfolders disappear from FSRM console after you rename the root folder in Windows Server 2012 R2 or Windows Server 2012
KBUri       : https://support.microsoft.com/en-us/kb/3092006
MUUri       : http://catalog.update.microsoft.com/v7/site/Search.aspx?q=3092006
ReleaseDate : 2015-10-13
KB          : 3094197
KBTitle     : Files aren't fully optimized and a deduplication cache lock contention issue occurs in Windows Server 2012 R2
KBUri       : https://support.microsoft.com/en-us/kb/3094197
MUUri       : http://catalog.update.microsoft.com/v7/site/Search.aspx?q=3094197
ReleaseDate : 2015-10-13
KB          : 3084093
KBTitle     : Child nodes under protected OU are deleted in Windows Server 2012 R2
KBUri       : https://support.microsoft.com/en-us/kb/3084093
MUUri       : http://catalog.update.microsoft.com/v7/site/Search.aspx?q=3084093
ReleaseDate : 2015-10-13
KB          : 3095308
KBTitle     : VMs may not get additional memory although they're set to use Dynamic Memory in Windows Server 2012 R2
KBUri       : https://support.microsoft.com/en-us/kb/3095308
MUUri       : http://catalog.update.microsoft.com/v7/site/Search.aspx?q=3095308
ReleaseDate : 2015-10-13
KB          : 3093550
KBTitle     : All ScriptProperty members are invoked when you run the Add-Member PowerShell command in Windows 8.1
KBUri       : https://support.microsoft.com/en-us/kb/3093550
MUUri       : http://catalog.update.microsoft.com/v7/site/Search.aspx?q=3093550
ReleaseDate : 2015-10-13
KB          : 3093899
KBTitle     : VMs that run on CSVs fail if DCM can't query volumes in Windows Server 2012 R2
KBUri       : https://support.microsoft.com/en-us/kb/3093899
MUUri       : http://catalog.update.microsoft.com/v7/site/Search.aspx?q=3093899
ReleaseDate : 2015-10-13
KB          : 3093571
KBTitle     :
KBUri       : https://support.microsoft.com/en-us/kb/3093571
MUUri       : http://catalog.update.microsoft.com/v7/site/Search.aspx?q=3093571
ReleaseDate : 2015-10-13
KB          : 3095663
KBTitle     : VSS_E_PROVIDER_VETO error occurs when you restore a LUN from backup in Windows Server 2012 R2
KBUri       : https://support.microsoft.com/en-us/kb/3095663
MUUri       : http://catalog.update.microsoft.com/v7/site/Search.aspx?q=3095663
ReleaseDate : 2015-10-13
KB          : 3090973
KBTitle     : Reenlist can't be called when SQL Server receives transaction outcome from MSDTC in Windows Server 2012 R2
KBUri       : https://support.microsoft.com/en-us/kb/3090973
MUUri       : http://catalog.update.microsoft.com/v7/site/Search.aspx?q=3090973
ReleaseDate : 2015-10-13
KB          : 3044546
KBTitle     : An updated reservation may disappear on a DHCP failover cluster in Windows Server 2012 or Windows Server 2012 R2
KBUri       : https://support.microsoft.com/en-us/kb/3044546
MUUri       : http://catalog.update.microsoft.com/v7/site/Search.aspx?q=3044546
ReleaseDate : 2015-10-13
KB          : 3092003
KBTitle     : Page loads repeatedly and authentication fails when users use MFA in Windows Server 2012 R2 AD FS
KBUri       : https://support.microsoft.com/en-us/kb/3092003
MUUri       : http://catalog.update.microsoft.com/v7/site/Search.aspx?q=3092003
ReleaseDate : 2015-10-13
KB          : 3084787
KBTitle     : Event ID 4102 when DFS Replication cloning fails on a Windows Server 2012 R2-based cluster
KBUri       : https://support.microsoft.com/en-us/kb/3084787
MUUri       : http://catalog.update.microsoft.com/v7/site/Search.aspx?q=3084787
ReleaseDate : 2015-10-13
KB          : 3092005
KBTitle     : Group Policy settings are set back to factory settings in GPMC in Windows Server 2012 R2
KBUri       : https://support.microsoft.com/en-us/kb/3092005
MUUri       : http://catalog.update.microsoft.com/v7/site/Search.aspx?q=3092005
ReleaseDate : 2015-10-13
KB          : 3094199
KBTitle     : Application module can't receive correct process status after security update 3045999 is installed in Windows
KBUri       : https://support.microsoft.com/en-us/kb/3094199
MUUri       : http://catalog.update.microsoft.com/v7/site/Search.aspx?q=3094199
ReleaseDate : 2015-10-13
KB          : 3095711
KBTitle     : Update to support LTO-7 tape drives in Windows Server 2012 R2 and Windows Server 2012
KBUri       : https://support.microsoft.com/en-us/kb/3095711
MUUri       : http://catalog.update.microsoft.com/v7/site/Search.aspx?q=3095711
ReleaseDate : 2015-10-13
KB          : 3090322
KBTitle     : Space doesn't regenerate upon reallocation in Windows Server 2012 R2
KBUri       : https://support.microsoft.com/en-us/kb/3090322
MUUri       : http://catalog.update.microsoft.com/v7/site/Search.aspx?q=3090322
ReleaseDate : 2015-10-13
KB          : 3082343
KBTitle     : Cross-Premises VPN connectivity is lost when Azure site-to-site VPN tunnels use Windows Server 2012 R2 RRAS
KBUri       : https://support.microsoft.com/en-us/kb/3082343
MUUri       : http://catalog.update.microsoft.com/v7/site/Search.aspx?q=3082343
ReleaseDate : 2015-10-13
KB          : 3093593
KBTitle     : Linux DNS client can't resolve domain names if it sends IPv4 and IPv6 queries to Windows Server 2012 R2 at the same time
KBUri       : https://support.microsoft.com/en-us/kb/3093593
MUUri       : http://catalog.update.microsoft.com/v7/site/Search.aspx?q=3093593
ReleaseDate : 2015-10-13
KB          : 3094209
KBTitle     : Two nodes form at the same time in a Windows Server 2012 R2-based failover cluster
KBUri       : https://support.microsoft.com/en-us/kb/3094209
MUUri       : http://catalog.update.microsoft.com/v7/site/Search.aspx?q=3094209
ReleaseDate : 2015-10-13
KB          : 3091402
KBTitle     : Site-to-site VPN goes down in Windows 8.1 or Windows Server 2012 R2
KBUri       : https://support.microsoft.com/en-us/kb/3091402
MUUri       : http://catalog.update.microsoft.com/v7/site/Search.aspx?q=3091402
ReleaseDate : 2015-10-13
KB          : 3053667
KBTitle     : Users can't connect to virtual machines that are running Windows 8.1 or Windows Server 2012 R2 by remote desktop
KBUri       : https://support.microsoft.com/en-us/kb/3053667
MUUri       : http://catalog.update.microsoft.com/v7/site/Search.aspx?q=3053667
ReleaseDate : 2015-10-13
KB          : 3093272
KBTitle     : L2TP connection fails with error 789 on a Windows Server 2012 R2-based RRAS server
KBUri       : https://support.microsoft.com/en-us/kb/3093272
MUUri       : http://catalog.update.microsoft.com/v7/site/Search.aspx?q=3093272
ReleaseDate : 2015-10-13
KB          : 3082532
KBTitle     : DNS server freezes and doesn't respond to DNS requests in Windows Server 2012 R2
KBUri       : https://support.microsoft.com/en-us/kb/3082532
MUUri       : http://catalog.update.microsoft.com/v7/site/Search.aspx?q=3082532
ReleaseDate : 2015-09-08
KB          : 3078420
KBTitle     : 0xC2 or 0xD1 Stop error on cluster nodes that are running Windows Server 2012 R2
KBUri       : https://support.microsoft.com/en-us/kb/3078420
MUUri       : http://catalog.update.microsoft.com/v7/site/Search.aspx?q=3078420
ReleaseDate : 2015-09-08
KB          : 3087856
KBTitle     : Non-queued commands are sent to disk controller on a Windows Server 2012 R2-based Hyper-V host server
KBUri       : https://support.microsoft.com/en-us/kb/3087856
MUUri       : http://catalog.update.microsoft.com/v7/site/Search.aspx?q=3087856
ReleaseDate : 2015-09-08
KB          : 3078631
KBTitle     : Windows Server Backup fails despite sufficient space on the target volume in Windows Server 2012 R2
KBUri       : https://support.microsoft.com/en-us/kb/3078631
MUUri       : http://catalog.update.microsoft.com/v7/site/Search.aspx?q=3078631
ReleaseDate : 2015-09-08
KB          : 3084952
KBTitle     : Users can't log on to a Windows Server 2012 R2-based server through remote desktop because of RDSLS database corruption
KBUri       : https://support.microsoft.com/en-us/kb/3084952
MUUri       : http://catalog.update.microsoft.com/v7/site/Search.aspx?q=3084952
ReleaseDate : 2015-09-08
KB          : 3080778
KBTitle     : AD FS does not call OnError when MFA adapter throws an exception in Windows Server 2012 R2
KBUri       : https://support.microsoft.com/en-us/kb/3080778
MUUri       : http://catalog.update.microsoft.com/v7/site/Search.aspx?q=3080778
ReleaseDate : 2015-09-08
KB          : 3073062
KBTitle     : DPM server takes too long to complete backup tasks in Windows Server 2012 R2
KBUri       : https://support.microsoft.com/en-us/kb/3073062
MUUri       : http://catalog.update.microsoft.com/v7/site/Search.aspx?q=3073062
ReleaseDate : 2015-09-08
KB          : 3076953
KBTitle     : Cluster services go offline when there's a connectivity issue in Windows Server 2012 R2 or Windows Server 2012
KBUri       : https://support.microsoft.com/en-us/kb/3076953
MUUri       : http://catalog.update.microsoft.com/v7/site/Search.aspx?q=3076953
ReleaseDate : 2015-09-08
KB          : 3078584
KBTitle     : Server crashes with Stop error 0x133 or 0x13C in Windows Server 2012 R2
KBUri       : https://support.microsoft.com/en-us/kb/3078584
MUUri       : http://catalog.update.microsoft.com/v7/site/Search.aspx?q=3078584
ReleaseDate : 2015-09-08
KB          : 3080728
KBTitle     : Applications can't perform I/Os in Windows Server 2012 R2
KBUri       : https://support.microsoft.com/en-us/kb/3080728
MUUri       : http://catalog.update.microsoft.com/v7/site/Search.aspx?q=3080728
ReleaseDate : 2015-09-08
KB          : 3012714
KBTitle     : Hyper-V storage migration failure and "ERROR_BAD_COMMAND" error in Windows Server 2012 R2 or Windows Server 2012
KBUri       : https://support.microsoft.com/en-us/kb/3012714
MUUri       : http://catalog.update.microsoft.com/v7/site/Search.aspx?q=3012714
ReleaseDate : 2015-09-08
KB          : 3077354
KBTitle     : Computer freezes when WFP leaks nonpaged pool memory in Windows Server 2012 R2 or Windows Server 2012
KBUri       : https://support.microsoft.com/en-us/kb/3077354
MUUri       : http://catalog.update.microsoft.com/v7/site/Search.aspx?q=3077354
ReleaseDate : 2015-08-11
KB          : 3076946
KBTitle     : CSV VSS writer does not report components after a deduplication volume is added to CSV in Windows Server 2012 R2
KBUri       : https://support.microsoft.com/en-us/kb/3076946
MUUri       : http://catalog.update.microsoft.com/v7/site/Search.aspx?q=3076946
ReleaseDate : 2015-08-11
KB          : 3075610
KBTitle     : Trust relationships are lost on secondary AD FS server after you add or remove claims provider in Windows Server 2012 R2
KBUri       : https://support.microsoft.com/en-us/kb/3075610
MUUri       : http://catalog.update.microsoft.com/v7/site/Search.aspx?q=3075610
ReleaseDate : 2015-08-11
KB          : 3076950
KBTitle     : "STATUS_CONNECTION_RESET" error when an application reads a file in Windows Server 2012 R2 or Windows Server 2012
KBUri       : https://support.microsoft.com/en-us/kb/3076950
MUUri       : http://catalog.update.microsoft.com/v7/site/Search.aspx?q=3076950
ReleaseDate : 2015-08-11
KB          : 3075161
KBTitle     : Computer might crash during storage enumeration stack in Windows Server 2012 R2
KBUri       : https://support.microsoft.com/en-us/kb/3075161
MUUri       : http://catalog.update.microsoft.com/v7/site/Search.aspx?q=3075161
ReleaseDate : 2015-08-11
KB          : 3078411
KBTitle     : Tenant VMs lose network connectivity if NAT gateway VM exhausts all TCP/IP ephemeral ports in Windows Server 2012 R2
KBUri       : https://support.microsoft.com/en-us/kb/3078411
MUUri       : http://catalog.update.microsoft.com/v7/site/Search.aspx?q=3078411
ReleaseDate : 2015-08-11
KB          : 3068445
KBTitle     : Virtual machines that host on Windows Server 2012 R2 may crash or restart unexpectedly
KBUri       : https://support.microsoft.com/en-us/kb/3068445
MUUri       : http://catalog.update.microsoft.com/v7/site/Search.aspx?q=3068445
ReleaseDate : 2015-07-14
KB          : 3068444
KBTitle     : Microsoft Support
KBUri       : https://support.microsoft.com/en-us/kb/3068444
MUUri       : http://catalog.update.microsoft.com/v7/site/Search.aspx?q=3068444
ReleaseDate : 2015-07-14
KB          : 3072381
KBTitle     : "0xc0000017" error when you restart a UEFI-based computer in Windows
KBUri       : https://support.microsoft.com/en-us/kb/3072381
MUUri       : http://catalog.update.microsoft.com/v7/site/Search.aspx?q=3072381
ReleaseDate : 2015-07-14
KB          : 3072380
KBTitle     : Hyper-V cluster unnecessarily recovers the virtual machine resources in Windows Server 2012 R2
KBUri       : https://support.microsoft.com/en-us/kb/3072380
MUUri       : http://catalog.update.microsoft.com/v7/site/Search.aspx?q=3072380
ReleaseDate : 2015-07-14
KB          : 3068441
KBTitle     : "Err (800704c3)" error occurs when you enable the host, file receive location and file send port for BizTalk 2013 R2 on a server that is running Windows Server 2012 R2
KBUri       : https://support.microsoft.com/en-us/kb/3068441
MUUri       : http://catalog.update.microsoft.com/v7/site/Search.aspx?q=3068441
ReleaseDate : 2015-07-14
KB          : 3069129
KBTitle     : Blank page is displayed when you try to access RemoteApps on a Windows-based RD Web Access server
KBUri       : https://support.microsoft.com/en-us/kb/3069129
MUUri       : http://catalog.update.microsoft.com/v7/site/Search.aspx?q=3069129
ReleaseDate : 2015-07-14
KB          : 3052480
KBTitle     : Unexpected ASP.Net application shutdown after many App_Data file changes occur on a server that is running Windows Server 2012 R2
KBUri       : https://support.microsoft.com/en-us/kb/3052480
MUUri       : http://catalog.update.microsoft.com/v7/site/Search.aspx?q=3052480
ReleaseDate : 2015-09-08
KB          : 3060678
KBTitle     : Snapshots are not deleted after you perform a backup operation by using VSS in Windows Server 2012 R2
KBUri       : https://support.microsoft.com/en-us/kb/3060678
MUUri       : http://catalog.update.microsoft.com/v7/site/Search.aspx?q=3060678
ReleaseDate : 2015-06-09
KB          : 3052122
KBTitle     : Update adds support for compound ID claims in AD FS tokens in Windows Server 2012 R2
KBUri       : https://support.microsoft.com/en-us/kb/3052122
MUUri       : http://catalog.update.microsoft.com/v7/site/Search.aspx?q=3052122
ReleaseDate : 2015-06-09
KB          : 3049443
KBTitle     : Live migration of virtual machine to another host fails on a Windows Server 2012 R2-based Hyper-V host server
KBUri       : https://support.microsoft.com/en-us/kb/3049443
MUUri       : http://catalog.update.microsoft.com/v7/site/Search.aspx?q=3049443
ReleaseDate : 2015-06-09
KB          : 3061460
KBTitle     : Interrupts to the Intelligent Platform Management Interface driver are missed in Windows Server 2012 R2
KBUri       : https://support.microsoft.com/en-us/kb/3061460
MUUri       : http://catalog.update.microsoft.com/v7/site/Search.aspx?q=3061460
ReleaseDate : 2015-06-09
KB          : 3063283
KBTitle     : Update to improve the backup of Hyper-V Integrated components in Hyper-V Server 2012 R2
KBUri       : https://support.microsoft.com/en-us/kb/3063283
MUUri       : http://catalog.update.microsoft.com/v7/site/Search.aspx?q=3063283
ReleaseDate : 2015-06-09
KB          : 3025091
KBTitle     : Shared Hyper-V virtual disk is inaccessible when it's located in Storage Spaces on a Windows Server 2012 R2-based computer
KBUri       : https://support.microsoft.com/en-us/kb/3025091
MUUri       : http://catalog.update.microsoft.com/v7/site/Search.aspx?q=3025091
ReleaseDate : 2015-09-08
KB          : 3055343
KBTitle     : Stop error code 0xD1, 0x139, or 0x3B and random crashes in Windows Server 2012 R2
KBUri       : https://support.microsoft.com/en-us/kb/3055343
MUUri       : http://catalog.update.microsoft.com/v7/site/Search.aspx?q=3055343
ReleaseDate : 2015-08-11
KB          : 3018489
KBTitle     : "No host bus adapter is present" error when querying SAS cable issues in Windows Server 2012 R2 or Windows Server 2012
KBUri       : https://support.microsoft.com/en-us/kb/3018489
MUUri       : http://catalog.update.microsoft.com/v7/site/Search.aspx?q=3018489
ReleaseDate : 2015-05-12
KB          : 3054249
KBTitle     : Backup application that calls the VSS service becomes unresponsive when the DFSR service is running in Windows
KBUri       : https://support.microsoft.com/en-us/kb/3054249
MUUri       : http://catalog.update.microsoft.com/v7/site/Search.aspx?q=3054249
ReleaseDate : 2015-05-12
KB          : 3047280
KBTitle     : "The URL cannot be resolved" error in DirectAccess and routing failure on HNV gateway cluster in Windows Server 2012 R2
KBUri       : https://support.microsoft.com/en-us/kb/3047280
MUUri       : http://catalog.update.microsoft.com/v7/site/Search.aspx?q=3047280
ReleaseDate : 2015-05-12
KB          : 3042836
KBTitle     : The Remote Desktop Active X control Mstscax.dll leaks thread handles in Windows 8.1
KBUri       : https://support.microsoft.com/en-us/kb/3042836
MUUri       : http://catalog.update.microsoft.com/v7/site/Search.aspx?q=3042836
ReleaseDate : 2015-05-12
KB          : 3049448
KBTitle     : Resolution of external DNS records on a Windows Server 2012 R2 Hyper-V guest cluster fails through a Hyper-V Network Virtualization Gateway
KBUri       : https://support.microsoft.com/en-us/kb/3049448
MUUri       : http://catalog.update.microsoft.com/v7/site/Search.aspx?q=3049448
ReleaseDate : 2015-05-12
KB          : 3046481
KBTitle     : DFS Namespaces deployment causes slow access or access time-out when you access DFS share in Windows Server 2012 R2
KBUri       : https://support.microsoft.com/en-us/kb/3046481
MUUri       : http://catalog.update.microsoft.com/v7/site/Search.aspx?q=3046481
ReleaseDate : 2015-04-14
KB          : 3036173
KBTitle     : "0x00000050" Stop error when Hyper-V host crashes in Windows Server 2012 R2
KBUri       : https://support.microsoft.com/en-us/kb/3036173
MUUri       : http://catalog.update.microsoft.com/v7/site/Search.aspx?q=3036173
ReleaseDate : 2015-04-14
KB          : 3042121
KBTitle     : Hotfix enables AD FS token replay protection for Web Application Proxy authentication tokens in Windows Server 2012 R2
KBUri       : https://support.microsoft.com/en-us/kb/3042121
MUUri       : http://catalog.update.microsoft.com/v7/site/Search.aspx?q=3042121
ReleaseDate : 2015-04-14
KB          : 3042841
KBTitle     : Files cannot be copied when drive redirection is enabled in Windows 8.1 or Windows Server 2012 R2
KBUri       : https://support.microsoft.com/en-us/kb/3042841
MUUri       : http://catalog.update.microsoft.com/v7/site/Search.aspx?q=3042841
ReleaseDate : 2015-04-14
KB          : 3030736
KBTitle     : "550 The process cannot access the file" error when you try to download a file in Windows
KBUri       : https://support.microsoft.com/en-us/kb/3030736
MUUri       : http://catalog.update.microsoft.com/v7/site/Search.aspx?q=3030736
ReleaseDate : 2015-04-14
KB          : 3042843
KBTitle     : "Your computer can't connect to the remote computer" error because RD Gateway service freezes in Windows Server 2012 R2
KBUri       : https://support.microsoft.com/en-us/kb/3042843
MUUri       : http://catalog.update.microsoft.com/v7/site/Search.aspx?q=3042843
ReleaseDate : 2015-04-14
KB          : 3044457
KBTitle     : "STATUS_PURGE_FAILED" error when you perform VM replications by using SCVMM in Windows Server 2012 R2
KBUri       : https://support.microsoft.com/en-us/kb/3044457
MUUri       : http://catalog.update.microsoft.com/v7/site/Search.aspx?q=3044457
ReleaseDate : 2015-04-14
KB          : 3047296
KBTitle     : RDP session becomes unresponsive when you connect to a Windows Server 2012 R2-based computer
KBUri       : https://support.microsoft.com/en-us/kb/3047296
MUUri       : http://catalog.update.microsoft.com/v7/site/Search.aspx?q=3047296
ReleaseDate : 2015-04-14
KB          : 3031598
KBTitle     : Hyper-V host crashes and has errors when you perform a VM live migration in Windows 8.1 and Windows Server 2012 R2
KBUri       : https://support.microsoft.com/en-us/kb/3031598
MUUri       : http://catalog.update.microsoft.com/v7/site/Search.aspx?q=3031598
ReleaseDate : 2015-04-14
KB          : 3046826
KBTitle     : You cannot upgrade Hyper-V integration components or back up Windows virtual machines
KBUri       : https://support.microsoft.com/en-us/kb/3046826
MUUri       : http://catalog.update.microsoft.com/v7/site/Search.aspx?q=3046826
ReleaseDate : 2015-04-14
KB          : 3042127
KBTitle     : "HTTP 400 – Bad Request" error when you open a shared mailbox through WAP in Windows Server 2012 R2
KBUri       : https://support.microsoft.com/en-us/kb/3042127
MUUri       : http://catalog.update.microsoft.com/v7/site/Search.aspx?q=3042127
ReleaseDate : 2015-04-14
KB          : 3045923
KBTitle     : You cannot unlock a remote session by entering a PIN code after you plug in the smart card in Windows
KBUri       : https://support.microsoft.com/en-us/kb/3045923
MUUri       : http://catalog.update.microsoft.com/v7/site/Search.aspx?q=3045923
ReleaseDate : 2015-04-14
KB          : 3020717
KBTitle     : VMMS crashes when you perform live migration and request VM information at the same time in Windows Server 2012 R2
KBUri       : https://support.microsoft.com/en-us/kb/3020717
MUUri       : http://catalog.update.microsoft.com/v7/site/Search.aspx?q=3020717
ReleaseDate : 2015-03-10
KB          : 3036965
KBTitle     : Printing preferences window appears behind a RemoteApp window in Windows
KBUri       : https://support.microsoft.com/en-us/kb/3036965
MUUri       : http://catalog.update.microsoft.com/v7/site/Search.aspx?q=3036965
ReleaseDate : 2015-03-10
KB          : 3036614
KBTitle     : "0x000000D1" Stop error when you fail over a cluster group in Windows Server 2012 or Windows Server 2012 R2
KBUri       : https://support.microsoft.com/en-us/kb/3036614
MUUri       : http://catalog.update.microsoft.com/v7/site/Search.aspx?q=3036614
ReleaseDate : 2015-03-10
KB          : 2970653
KBTitle     : A SQL Server that is running in a Hyper-V virtual machine takes a long time to restore a database to a dynamic VHD
KBUri       : https://support.microsoft.com/en-us/kb/2970653
MUUri       : http://catalog.update.microsoft.com/v7/site/Search.aspx?q=2970653
ReleaseDate : 2015-03-10
KB          : 3033917
KBTitle     : AD FS cannot process SAML response in Windows Server 2012 R2
KBUri       : https://support.microsoft.com/en-us/kb/3033917
MUUri       : http://catalog.update.microsoft.com/v7/site/Search.aspx?q=3033917
ReleaseDate : 2015-03-10
KB          : 3038024
KBTitle     : DNS server does not try the second forwarder and other DNS improvements in Windows Server 2012 R2
KBUri       : https://support.microsoft.com/en-us/kb/3038024
MUUri       : http://catalog.update.microsoft.com/v7/site/Search.aspx?q=3038024
ReleaseDate : 2015-03-10
KB          : 3035025
KBTitle     : Hotfix for update password feature so that users are not required to use registered device in Windows Server 2012 R2
KBUri       : https://support.microsoft.com/en-us/kb/3035025
MUUri       : http://catalog.update.microsoft.com/v7/site/Search.aspx?q=3035025
ReleaseDate : 2015-03-10
KB          : 3027115
KBTitle     : Custom values for various MPIO timers in Windows Server 2012 R2 may not be honored
KBUri       : https://support.microsoft.com/en-us/kb/3027115
MUUri       : http://catalog.update.microsoft.com/v7/site/Search.aspx?q=3027115
ReleaseDate : 2015-02-10
KB          : 3027108
KBTitle     : "0x0000003B" or "0x0000007E" Stop error on a Windows-based computer that has 4K sector disks
KBUri       : https://support.microsoft.com/en-us/kb/3027108
MUUri       : http://catalog.update.microsoft.com/v7/site/Search.aspx?q=3027108
ReleaseDate : 2015-02-10
KB          : 3023894
KBTitle     : Cluster fixes for deadlock and resource time-out issues in Windows Server 2012 R2 Update 1
KBUri       : https://support.microsoft.com/en-us/kb/3023894
MUUri       : http://catalog.update.microsoft.com/v7/site/Search.aspx?q=3023894
ReleaseDate : 2015-02-10
KB          : 3027110
KBTitle     : System may freeze if a reserved disk is mounted accidentally in Windows 8.1 or Windows Server 2012 R2
KBUri       : https://support.microsoft.com/en-us/kb/3027110
MUUri       : http://catalog.update.microsoft.com/v7/site/Search.aspx?q=3027110
ReleaseDate : 2015-02-10
KB          : 3022333
KBTitle     : Hotfix to avoid a deadlock situation on a CSV file system volume on Windows Server 2012 R2
KBUri       : https://support.microsoft.com/en-us/kb/3022333
MUUri       : http://catalog.update.microsoft.com/v7/site/Search.aspx?q=3022333
ReleaseDate : 2015-02-10
KB          : 3026738
KBTitle     : RemoteApp window is too large or too small when you use RDP to run a RemoteApp application in Windows Server 2012 R2
KBUri       : https://support.microsoft.com/en-us/kb/3026738
MUUri       : http://catalog.update.microsoft.com/v7/site/Search.aspx?q=3026738
ReleaseDate : 2015-02-10
KB          : 3018886
KBTitle     : You are prompted for a username and password two times when you access Windows Server 2012 R2 AD FS server from intranet
KBUri       : https://support.microsoft.com/en-us/kb/3018886
MUUri       : http://catalog.update.microsoft.com/v7/site/Search.aspx?q=3018886
ReleaseDate : 2015-02-10
KB          : 3020773
KBTitle     : Time-out failures after initial deployment of Device Registration service in Windows Server 2012 R2
KBUri       : https://support.microsoft.com/en-us/kb/3020773
MUUri       : http://catalog.update.microsoft.com/v7/site/Search.aspx?q=3020773
ReleaseDate : 2015-02-10
KB          : 3025080
KBTitle     : Operation fails when you try to save an Office file through Web Application Proxy in Windows Server 2012 R2
KBUri       : https://support.microsoft.com/en-us/kb/3025080
MUUri       : http://catalog.update.microsoft.com/v7/site/Search.aspx?q=3025080
ReleaseDate : 2015-02-10
KB          : 3025078
KBTitle     : You are not prompted for username again when you use an incorrect username to log on to Windows Server 2012 R2
KBUri       : https://support.microsoft.com/en-us/kb/3025078
MUUri       : http://catalog.update.microsoft.com/v7/site/Search.aspx?q=3025078
ReleaseDate : 2015-02-10
KB          : 3020813
KBTitle     : You are prompted for authentication when you run a web application in Windows Server 2012 R2 AD FS
KBUri       : https://support.microsoft.com/en-us/kb/3020813
MUUri       : http://catalog.update.microsoft.com/v7/site/Search.aspx?q=3020813
ReleaseDate : 2015-02-10
KB          : 3014795
KBTitle     : A third-party switch extension to the Microsoft VM switch cannot be disabled on Windows Server 2012 R2
KBUri       : https://support.microsoft.com/en-us/kb/3014795
MUUri       : http://catalog.update.microsoft.com/v7/site/Search.aspx?q=3014795
ReleaseDate : 2014-12-09
KB          : 3013108
KBTitle     : RDS License Manager shows no issued free or temporary client access licenses in Windows Server 2012 R2
KBUri       : https://support.microsoft.com/en-us/kb/3013108
MUUri       : http://catalog.update.microsoft.com/v7/site/Search.aspx?q=3013108
ReleaseDate : 2014-12-09
KB          : 3000123
KBTitle     : iSCSI SAN server that's running Windows Server 2012 R2 restarts unexpectedly on a high-speed network
KBUri       : https://support.microsoft.com/en-us/kb/3000123
MUUri       : http://catalog.update.microsoft.com/v7/site/Search.aspx?q=3000123
ReleaseDate : 2014-11-11
KB          : 2996802
KBTitle     : TRIM and UNMAP activities for thin provisioning on one volume block all activities on other volumes
KBUri       : https://support.microsoft.com/en-us/kb/2996802
MUUri       : http://catalog.update.microsoft.com/v7/site/Search.aspx?q=2996802
ReleaseDate : 2014-11-11
KB          : 2995054
KBTitle     : SMBv1 named pipe requests do not time out when the remote server hangs in Windows 7, Windows Server 2008, Windows 8.1, and Windows Server 2012 R2
KBUri       : https://support.microsoft.com/en-us/kb/2995054
MUUri       : http://catalog.update.microsoft.com/v7/site/Search.aspx?q=2995054
ReleaseDate : 2014-10-14
KB          : 2981330
KBTitle     : WTSQuerySessionInformation API function always returns zero bytes for WTSIncomingBytes and WTSOutgoingBytes
KBUri       : https://support.microsoft.com/en-us/kb/2981330
MUUri       : http://catalog.update.microsoft.com/v7/site/Search.aspx?q=2981330
ReleaseDate : 2014-10-14
KB          : 2991247
KBTitle     : SMB 3.0 Transparent Failover feature does not work after you disconnect a drive cable in Windows
KBUri       : https://support.microsoft.com/en-us/kb/2991247
MUUri       : http://catalog.update.microsoft.com/v7/site/Search.aspx?q=2991247
ReleaseDate : 2014-10-14
KB          : 2979265
KBTitle     : Dwm.exe memory consumption increases until the 2-GB limit is reached and the system freezes
KBUri       : https://support.microsoft.com/en-us/kb/2979265
MUUri       : http://catalog.update.microsoft.com/v7/site/Search.aspx?q=2979265
ReleaseDate : 2014-08-12
KB          : 2977219
KBTitle     : Updates to improve the compatibility of Azure RemoteApp in Windows 8.1 or Windows Server 2012 R2
KBUri       : https://support.microsoft.com/en-us/kb/2977219
MUUri       : http://catalog.update.microsoft.com/v7/site/Search.aspx?q=2977219
ReleaseDate : 2014-08-12
KB          : 2967077
KBTitle     : A network printer is deleted unexpectedly in Windows
KBUri       : https://support.microsoft.com/en-us/kb/2967077
MUUri       : http://catalog.update.microsoft.com/v7/site/Search.aspx?q=2967077
ReleaseDate : 2014-08-12
KB          : 2973052
KBTitle     : "0x00000018" Stop error when volumes are mounted in Windows Server 2012 R2 or Windows Server 2012
KBUri       : https://support.microsoft.com/en-us/kb/2973052
MUUri       : http://catalog.update.microsoft.com/v7/site/Search.aspx?q=2973052
ReleaseDate : 2014-08-12
KB          : 2973055
KBTitle     : Error 58 when an application calls BackupRead function to back up files that are shared by using SMB in Windows
KBUri       : https://support.microsoft.com/en-us/kb/2973055
MUUri       : http://catalog.update.microsoft.com/v7/site/Search.aspx?q=2973055
ReleaseDate : 2014-07-08
KB          : 2965733
KBTitle     : The guest cluster is not available to service users after failover in a Hyper-V Network Virtualization environment
KBUri       : https://support.microsoft.com/en-us/kb/2965733
MUUri       : http://catalog.update.microsoft.com/v7/site/Search.aspx?q=2965733
ReleaseDate : 2014-06-10
KB          : 2929869
KBTitle     : CSV snapshot file is corrupted when you create some files on the live volume in Windows
KBUri       : https://support.microsoft.com/en-us/kb/2929869
MUUri       : http://catalog.update.microsoft.com/v7/site/Search.aspx?q=2929869
ReleaseDate : 2014-04-08
KB          : 2934249
KBTitle     : NFS version 4.1 and version 3 work unexpectedly in Windows Server 2012 R2 or Windows Server 2012
KBUri       : https://support.microsoft.com/en-us/kb/2934249
MUUri       : http://catalog.update.microsoft.com/v7/site/Search.aspx?q=2934249
ReleaseDate : 2014-04-08
KB          : 2904100
KBTitle     : System freezes during disk I/O in Windows
KBUri       : https://support.microsoft.com/en-us/kb/2904100
MUUri       : http://catalog.update.microsoft.com/v7/site/Search.aspx?q=2904100
ReleaseDate : 2014-03-11
KB          : 2919740
KBTitle     : iSCSI Target stops responding to requests in Windows Server 2012 R2
KBUri       : https://support.microsoft.com/en-us/kb/2919740
MUUri       : http://catalog.update.microsoft.com/v7/site/Search.aspx?q=2919740
ReleaseDate : 2014-02-11
KB          : 2925766
KBTitle     : Windows Server 2012 R2 or Windows 8.1 crashes when virtual volumes are exposed to hyper-v virtual machines
KBUri       : https://support.microsoft.com/en-us/kb/2925766
MUUri       : http://catalog.update.microsoft.com/v7/site/Search.aspx?q=2925766
ReleaseDate : 2014-02-11
KB          : 2908810
KBTitle     : Memory and deadlock issues for the RD Virtualization Host and RD Connection Broker role services in Windows 8.1
KBUri       : https://support.microsoft.com/en-us/kb/2908810
MUUri       : http://catalog.update.microsoft.com/v7/site/Search.aspx?q=2908810
ReleaseDate : 2014-02-11
KB          : 2896146
KBTitle     : Packet loss occurs when MTU is below 576 and PMTU discovery is enabled in Windows
KBUri       : https://support.microsoft.com/en-us/kb/2896146
MUUri       : http://catalog.update.microsoft.com/v7/site/Search.aspx?q=2896146
ReleaseDate : 2014-01-14
KB          : 2913766
KBTitle     : Hotfix improves storage enclosure management for Storage Spaces in Windows 8.1 and Windows Server 2012 R2
KBUri       : https://support.microsoft.com/en-us/kb/2913766
MUUri       : http://catalog.update.microsoft.com/v7/site/Search.aspx?q=2913766
ReleaseDate : 2014-01-14
KB          : 2913695
KBTitle     : OffloadWrite is doing PrepareForCriticalIo for the whole VHD in a Windows Server 2012 or Windows Server 2012 R2 Hyper-V host
KBUri       : https://support.microsoft.com/en-us/kb/2913695
MUUri       : http://catalog.update.microsoft.com/v7/site/Search.aspx?q=2913695
ReleaseDate : 2014-01-14
KB          : 2913659
KBTitle     : Windows Server 2012 R2-based Hyper-V server crashes when network traffic passes through a virtual switch
KBUri       : https://support.microsoft.com/en-us/kb/2913659
MUUri       : http://catalog.update.microsoft.com/v7/site/Search.aspx?q=2913659
ReleaseDate : 2014-01-14
KB          : 2902821
KBTitle     : A virtual machine that is configured to use the DLC protocol does not connect to an SNA host on Hyper-V Server 2012 or Hyper-V Server 2012 R2
KBUri       : https://support.microsoft.com/en-us/kb/2902821
MUUri       : http://catalog.update.microsoft.com/v7/site/Search.aspx?q=2902821
ReleaseDate : 2014-01-14